How companies can avoid a poor candidate experience
In a competitive job market, companies must learn how to avoid a poor candidate experience. Here are some best practices to follow.
By Molly Driscoll on TechTarget, published on February 28, 2023
While layoffs have hit various industries, job seekers still have the upper hand when applying for positions. That means HR leaders can't afford to ignore the candidate experience.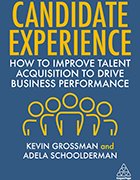 The interactions job seekers have during the recruiting and hiring process — from the initial contact with the company to onboarding — all matter. HR leaders must educate recruiters, hiring managers and others on making sure job seekers feel good about their experience. A great candidate experience translates to a wider talent pool and a better reputation. A poor candidate experience works in just the opposite way: It costs companies great candidates, who often publicize their bad experience. Poor candidate experiences can even result in losing customers for consumer-dependent businesses.
The idea that companies can create a great candidate experience is one of the central themes author Kevin W. Grossman, president of Talent Board, a nonprofit that seeks to improve conditions for job seekers, tackles in Candidate Experience, co-authored with Adela Schoolderman.
Here, Grossman shares some of the most common mistakes companies make with recruiting, how the Great Resignation has affected the process and why email auto-replies are always a mistake.
Can you summarize, for people who might not be familiar, how you think candidate experience has evolved over the past few decades?
Kevin W. Grossman: It hasn't. That's a little bit tongue-in-cheek, but it's also very serious. Consistent and timely communication and feedback are the things that make the biggest difference every single year, regardless of what the world looks like.
With the past couple of years since pandemic year one, it's been more of a candidate market. It still is. So, their expectations have been a lot higher since the pandemic, too. One of the things we measure is candidate resentment — so candidates who say that they'll never do anything again with that employer because they had a poor experience. That has always been the highest in our data in North America — mostly the U.S., but Canada included. But it's creeping up everywhere else.
For consumer-based businesses, the poor candidate experience could translate into me not wanting to be a customer anymore, either.