Research Shows Hiring Is Normalizing Instead of Nosediving
Results from the latest CandE Pulse survey indicate an increasingly stable recruiting landscape.
Written by Kevin Grossman, originally published on ERE.net November 9, 2023. 
If there's one thing that's been clear over the past few years in Talent Board's annual candidate experience benchmark research, it's that employers tell us they have work to do when it comes to pre-boarding and onboarding new hires.
Beyond the background checks, certification checks, and the checkboxes of new-hire paperwork, there's a greater struggle to engage and excite new hires before Day 1. When we ask candidates about other pre-boarding activities and communications they may have with their new employer (or current employer if it was an internal move), less than 20% tell us that the company provided multiple options to communicate goals, meet key team members, and answer questions prior to my start date. That's less than 20% globally, too — in North America; Europe, the Middle East, and Africa (EMEA); Asia-Pacific (APAC); and Latin America, all the regions we track this data in.
Not only that, when we ask candidates if they get a call from their hiring manager prior to their start date, the percentages that do are just as dismal:
North America – 42% (down 11% from two years ago)
EMEA – 36% (down 14% from two years ago)
APAC – 40% (down 17% from two years ago)
Latin America – 22% (down 31% from two years ago)
This is where incrementally increasing new-hire communications prior to Day 1 can make a big difference. In fact, when candidates are provided multiple options to communicate goals, meet key team members, and answer questions prior to their start date as highlighted above, their new-hire rating increases 21% in our research, and their willingness to refer increases 133%.
It is surprising, however, that since we've been conducting our monthly CandE Pulse surveys, pre-boarding/onboarding has only been in the top five recruiting and hiring priorities two out of the past eight months.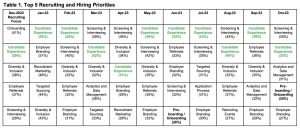 But according to an upcoming Talent Board research report, nearly all respondents told us they're relying on reskilling and upskilling to fill in their organizations' gaps in specialized and hard-to-find skill sets: 37% are doing so to a significant degree, and 27% are doing so to a great degree.
That definitely makes sense, since job growth is starting to slow, or more specifically, normalize to pre-pandemic levels, with employers adding 150,000 jobs in October. The unemployment rate also ticked up to 3.9%. Part of the slowdown is due to the impact of the UAW's strike against all Big Three automakers, with union deals now reached with each of them.
And according to ERE labor columnist Jay Denton's latest ERE article, "The number of people voluntarily quitting their job was at just over 3.6 million in both July and August. Those are the two lowest totals since February 2021."
Are we just normalizing instead of nosediving? Maybe. In our latest CandE Community Pulse results for October, the good news is that hiring continues to be stable (at least with those who responded the past 10 months) and again reflects the bigger jobs reports the past few months, even with the slowdown.
We had over 100 responses from companies big and small across industries (nearly 60% this time were 500-100,000+ in employee size, similar to September, and the most represented industries were healthcare, government – public sector, technology, finance & insurance, consumer goods, education, and manufacturing).
When we asked employers what their current hiring status was, 76% said "we're hiring," up from September, but still consistently stable since January. However, freezing hiring was still up in October, but laying off and redeploying were down. (Additionally, contract and management hires increased in October.)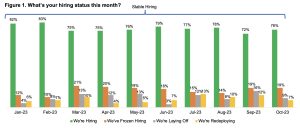 We also asked employers whether they've increased or decreased the size of their recruiting team this month, and those stating they've increased is down from September, but still the highest since July.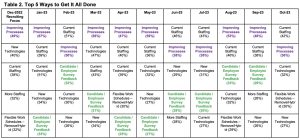 The job requisition load of up to 30 reqs each per recruiter inched up to 76% in October. Those carrying up to 50 reqs each were also up slightly from September. Of course, while we want to assume this could be a sign of growth, we understand that req loads always vary by job type, industry, and employer size, and again the fact that many recruiting teams are stable but leaner these days.
As we do each year in our benchmark research, and now monthly since January, we again highlight how employers rated their own recruiting and candidate experience. When we compare the October CandE Pulse results to September, those companies that felt like they were leading in their recruiting and hiring practices and their candidate experience increased significantly by 114%, and were also higher than our 2023 annual employer benchmark responses.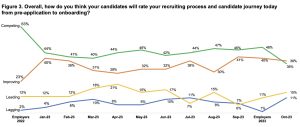 Because of the limited number of survey questions and the different mix of companies that respond each month to our pulse surveys, and the fact that these are self-ratings, we do have to be careful of what exactly is really going on. However, it does tell us self-awareness of how employers are delivering recruiting experiences can definitely fluctuate. Those that said they were competing decreased 21% from September, which is not what we like to see. But those who said they were improving remained stable, but lagging increased 83%.
When it comes to the top five ways employers are accomplishing the above priorities, improving processes dropped to No. 2, and current staffing moved to first place. Interestingly, candidate and employee survey feedback fell out of the top five after nine consecutive months, but current and new technologies were both in the top five this time, along with flexible work schedules.
Even in the tough recruiting tech market the past year, implementing new systems and optimizing current ones are key to improving recruiting and candidate experience processes.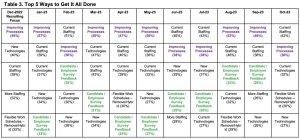 The employers that respond to our CandE Pulse survey each month vary, but we do know that no matter the mix, consistent recruiting and hiring while sustaining a quality candidate experience is difficult for most employers, but we've seen these multi-year CandE Award Winners do it (those employers that have above average ratings in our benchmark research).
You may take the November CandE Pulse Survey to keep research up to date on the recruiting and hiring landscape.